The Education Seminar 2020 will take place from Thursday 27th  to Saturday 29th February at the Hillscourt Conference Centre near Birmingham.
The Seminar is an excellent opportunity to get ahead with your Diploma studies, and to meet tutors and fellow students from around the country. If you haven't been to one before and are a bit apprehensive about attending, don't worry – you will find everyone very friendly and helpful. Read about the experiences of first time attendees below:
'The whole experience was very good in particular working within a group.  It was great to meet so many nice people with the added bonus of getting assignments completed'
'The amount of work that can be achieved over the 3 days is fantastic (we managed to do 3 assignments) and allows you to go back home feeling hugely motivated to carry on with your studies'
'As always, the support and networking part of the seminar is invaluable and it is great to be able to speak to people who get it and its reassuring to find that others in the industry have the same day to day issues to deal with regardless of the size of the bereavement service at their authority'
'It was really helpful to be able to work on assignments as a group and being able to network with colleagues from the bereavement industry was invaluable'
'An amazing opportunity to get lots of work done with like-minded folk, great to catch up with everyone and find out how others are progressing'
'I particularly enjoyed the format, the learning environment, the  support from Tutors, the support from colleagues, the food, the quiz'
'Great environment to learn and produce the work. I achieved so much I can hardly believe it'
Although the emphasis is on hard work, there are opportunities to have some fun in the evenings with our now legendary quiz, produced by Blue Audio Visual Ltd, with prizes donated by the Exhibitors at the Seminar.
You can be assured that by the end of the Seminar you will have been able to complete and have assessed at least one assignment. In 2019 several students completed an entire module. You will also have made some invaluable friends and contacts, and gained knowledge and shared experiences with colleagues from around the UK.
For more information please contact Julie Dunk, Chief Executive on 07976 939585, or at julie.dunk@iccm-uk.com
If you have old qualifications, why not come to next year's Education Seminar and convert one of your modules to a nationally accredited HNC standard? This could be achieved during the course of the Seminar, and would prove to your employers that your qualifications are up to date and relevant, as well as aiding your own personal development.
Further details on old unit conversions and studying beyond the Diploma are available here
Continuing Professional Development
ATTENDANCE COUNTS TOWARD CPD!
The ICCM's Continuing Professional Development (CPD) Scheme is a framework of learning and development activities, which contribute to your continued effectiveness as a professional.
Have you joined yet? If not, get more information here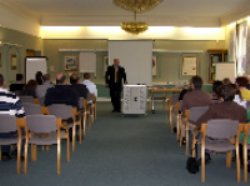 President Ken Dry opening the Education Seminar
Quiz master Martin Birch gets the Quiz underway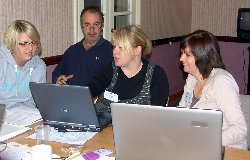 Working hard on a unit…
..and enjoying it!
A well-deserved tea break